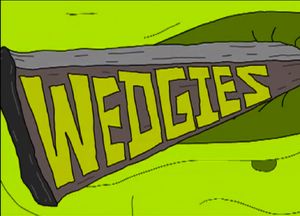 Wedgies was a short-lived program from Cartoon Network consisting of multiple shorts, such as Nacho Bear, Calling Cat 22, Big Baby, The Bremen Expierence, and The Talented Mr. Bixby. The shorts were produced from 2008-2009. They were not seen on Cartoon Network anymore, but Boomerang currently airs reruns. In 2010, however, it was given a second run with more shorts like GERT, Little Man Big Mouth, Tim, the Teenage Zombie, etc. But when Cartoon Network started its "Check It" look in May 2010, these Wedgies were immediatley pulled off the air.
Ad blocker interference detected!
Wikia is a free-to-use site that makes money from advertising. We have a modified experience for viewers using ad blockers

Wikia is not accessible if you've made further modifications. Remove the custom ad blocker rule(s) and the page will load as expected.