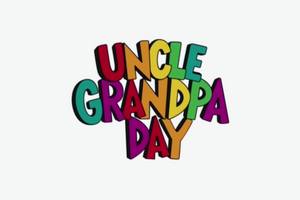 Uncle Grandpa Day
was a special 7-hour marathon that aired on
Cartoon Network
on Thursday August 21, 2014 from 9:00 AM to 6:00 PM. The marathon featured every single episode of
Uncle Grandpa
that had been aired up to that point (first 26 episodes). The marathon led up to an all-new half-hour
Uncle Grandpa
special at 7:30 PM.
[1]
[2]
On April 2, 2015, the marathon aired again from 7:30 AM to 6:00 PM, featuring many episodes and the premiere of the Steven Universe-Uncle Grandpa crossover at 5:30PM. The marathon has also aired in the Asia.
Gallery
References
↑ "Uncle Grandpa Day". cartoonnetwork.com. August 19, 2014. http://www.cartoonnetwork.com/blog/post/uncle-grandpa-day

. Retrieved on November 4, 2014

.

 

↑ "CN Schedule August 18-25, 2014". tvschedulearchive.com. http://www.tvschedulearchive.com/cartoon-network/2014/081814.txt

. Retrieved on November 4, 2014

.

 
Ad blocker interference detected!
Wikia is a free-to-use site that makes money from advertising. We have a modified experience for viewers using ad blockers

Wikia is not accessible if you've made further modifications. Remove the custom ad blocker rule(s) and the page will load as expected.