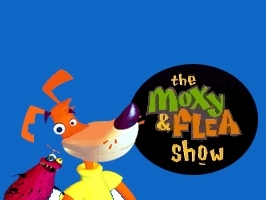 The Moxy Show was an animation anthology television series produced by Hanna-Barbera and is the first Cartoon Network original series. The show ran on December 5, 1993, originally as The Moxy Pirate Show, and consisted of classic cartoons divided by 3-D animated interstitials featuring Moxy, a dog, and Flea, a flea.
As of 2011, The Moxy Show has not had any DVD releases and no full episodes of it can not be found in the entire internet, meaning that it is the rarest of all of Cartoon Networks programming to be seen after 2000.
Later in 2011, fans who recorded the series at the time it was still on the air had uploaded clips of certain episodes, bumpers during the early era of Cartoon Network and the show's theme song that were either dubbed in English or Spanish into video-sharing websites such as YouTube.
A rare behind-the-scenes video of The Moxy Show titled "The Making of Moxy" was uploaded in YouTube which featured the production, starting and magical-works on how the show was made, Moxy was created and the art of computer animation, including interviews of crew members and the appearance of Bobcat Goldthwait, Moxy's voice actor.
Broadcast History
USA
Cartoon Network (1993-2000, original run; 2000, reruns) TBS (1993-1996) TNT (1993-1995)