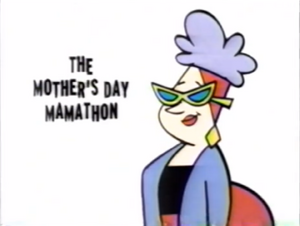 The Mother's Day Mamathon
(also known as
Johnny Bravo's Mother's Day Mamathon
) was a special 8-hour
Johnny Bravo
marathon that aired on
Cartoon Network
on Mother's Day from 12:00 PM to 8:00 PM on 2 seperate occasions and from 11:00 AM to 7:00 PM on one other occasion (2001). The first Mamathon occurred on Sunday May 14, 2000
[1]
, the second occurred on Sunday May 13, 2001
[2]
and the final occurred on Sunday May 12, 2002.
[3]
References
↑ "TV Highlights". cartoonnetwork.com. May 10, 2000. http://web.archive.org/web/20000510150802/http://cartoonnetwork.com/tv/tvhighli.html

. Retrieved on October 16, 2014

.

 

↑ Berkowitz, Lana (May 10, 2001). "Channel Surfer". chron.com. http://www.chron.com/life/article/Channel-surfer-2020151.php

. Retrieved on October 16, 2014

.

 
Ad blocker interference detected!
Wikia is a free-to-use site that makes money from advertising. We have a modified experience for viewers using ad blockers

Wikia is not accessible if you've made further modifications. Remove the custom ad blocker rule(s) and the page will load as expected.