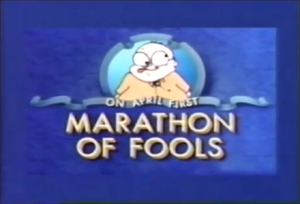 Tex Avery's Marathon of Fools
was an 18-hour April Fools marathon that aired on
Cartoon Network
on April 1, 2001 from 6:00 AM to 12:00 AM. The marathon's programming consisted of classic MGM cartoons featuring characters created by Tex Avery such as
Screwwy Squirrel
,
George and Junior
, and
Droopy
, among others.
[1]
References
↑ "TEX AVERY PRESENTS MARATHON OF FOOLS". cartoonnetwork.com. March 30, 2001. https://web.archive.org/web/20010330130348/http://cartoonnetwork.com/tv/schedule.html

. Retrieved on February 17, 2015

.

 
Ad blocker interference detected!
Wikia is a free-to-use site that makes money from advertising. We have a modified experience for viewers using ad blockers

Wikia is not accessible if you've made further modifications. Remove the custom ad blocker rule(s) and the page will load as expected.