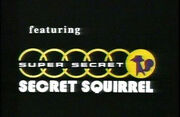 Super Secret Secret Squirrel is an American animated series, and a revival of the original Hanna-Barbera cartoon. It aired as a back-up segment of 2 Stupid Dogs , and starred the titular Secret Squirrel, along with his sidekick Morocco Mole.
Production
Larry Huber, who later served as executive producer on What a Cartoon!, directed Super Secret Secret Squirrel as the middle cartoon in 2 Stupid Dogs, part of Fred Seibert's revival of Hanna-Barbera. 13 Episodes were produced, each with a unique villain-of-the-week, airing inbetween two shorts for 2 Stupid Dogs.
Premise
Secret Squirrel is the top agent for the Super Secret Service, designation Agent 000, (referred to as "Agent Triple-Zero"). With his sidekick, Morocco Mole, the Chief assigns him to thwart the plots of various villains the world over.
Ad blocker interference detected!
Wikia is a free-to-use site that makes money from advertising. We have a modified experience for viewers using ad blockers

Wikia is not accessible if you've made further modifications. Remove the custom ad blocker rule(s) and the page will load as expected.