Super Adventures

Launched

October 1, 1992[1]

Defunct

1994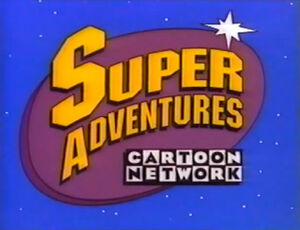 Super Adventures was a Cartoon Network block that was first aired on October 1, 1992 and last aired in 1994. Super Adventures presented action-oriented cartoons like Space Ghost, Birdman, and Fantastic Four, among many other Hanna-Barbera/Ruby-Spears action series. It aired on weekday afternoons, and also had a weekend afternoon counterpart known as Super Adventures Saturday.
In 1994, Super Adventures, was replaced with a similar block called Afternoon Adventures.
Programming
Gallery
Super Adventures Saturday
Super Adventures Saturday was the weekend version of Super Adventures which also ran from 1992 to 1994 and again presented action-oriented cartoons, all of which are exactly the same as it's weekday counterpart.
References
Ad blocker interference detected!
Wikia is a free-to-use site that makes money from advertising. We have a modified experience for viewers using ad blockers

Wikia is not accessible if you've made further modifications. Remove the custom ad blocker rule(s) and the page will load as expected.