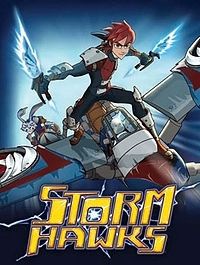 The Storm Hawks were a high flying group of underestimated teenagers who got in themselves in variety of unfortunate situations all over the skies of Atmos. The members of their team are Aerrow as the leader, Jugo as the muscle, Piper as the brains, Finn as the marksman, Raddar as Aerrow's co-pilot, and Stork flies the big ship. Their main rivals were the evil Cyclonians led by master Cyclonis and her top sky knight the Dark Ace. Even in all this trouble they never worry because the sky is never the limit.
Ad blocker interference detected!
Wikia is a free-to-use site that makes money from advertising. We have a modified experience for viewers using ad blockers

Wikia is not accessible if you've made further modifications. Remove the custom ad blocker rule(s) and the page will load as expected.