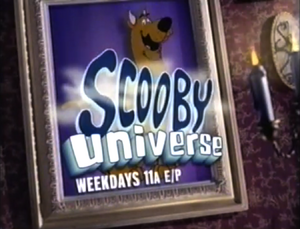 Scooby Universe is a former hour long Cartoon Network block that aired Monday through Friday in 2003. Scooby Universe showcased the various Scooby-Doo Cartoons created by Hanna-Barbera, including: Scooby-Doo, Where Are You!, The 13 Ghosts of Scooby-Doo, The New Scooby-Doo Movies and A Pup Named Scooby-Doo, among others.
Gallery
Ad blocker interference detected!
Wikia is a free-to-use site that makes money from advertising. We have a modified experience for viewers using ad blockers

Wikia is not accessible if you've made further modifications. Remove the custom ad blocker rule(s) and the page will load as expected.