Powerhouse

Launched

July 16, 1997

Defunct

June 14, 2004

Studio

Primal Screen

Announcers

Tom Clark (2000–03)
Doug Preis (2002–04)
Phil Hartman (1997–98)
Harry Shearer (1998–2000)
Phil LaMarr (1998–2003)
Frank Welker (1997–2003)

Preceded by

Succeeded by

CN president(s)

Betty Cohen (1997–2001)
Jim Samples (2001–04)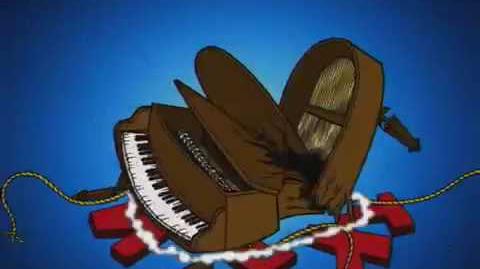 The Powerhouse era was the second era of Cartoon Network in the USA, Southeast Asia, Australia, Latin America, and Brazil. It began on July 16, 1997 and ended during the early morning hours of June 14, 2004. It was succeeded by the CN City era. The last program to air under the Powerhouse era on June 14, 2004 was Captain Planet. The era was named after the Raymond Scott composition, "Powerhouse", which was the musical theme for most bumpers and graphical elements of this period. However, in March 2003 on USA, as well as Southeast Asia and Australia (not Latin America and Brazil), the Powerhouse music was removed from the bumpers and replaced with a series of generic fanfares and themes (except on the weekends, when the Powerhouse music was used for Coming Up Next bumpers). Also the yellow, blue, purple backgrounds of that era were still used from late 2003 until mid-2004.
Programming
With the transition from the Checkerboard era to the Powerhouse era, the network slowly began to feature their original series more prominently. This eventually led to the classic animation programming block, Boomerang, being split off into its own network in April 2000, taking most of the classic Hanna-Barbera series with it. A total of 14 original series were produced during this era.
During this era several notable programming blocks were introduced including: Cartoon Network's Cartoon Theatre, a movie block that aired on CN from July 1998 to 2007; Cartoon Cartoon Fridays, a weekly programming block through which the network premiered new episodes of its original series; and Adult Swim, a late-night block aimed at a more mature audience that became its own network in 2005.
CN Original Series
Acquired Series
Trivia
Ad blocker interference detected!
Wikia is a free-to-use site that makes money from advertising. We have a modified experience for viewers using ad blockers

Wikia is not accessible if you've made further modifications. Remove the custom ad blocker rule(s) and the page will load as expected.