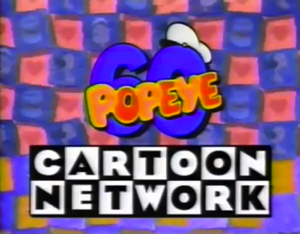 Popeye's 60th
was a special week long
Cartoon Network
block that aired from Monday July 12, 1993 through Saturday July 17, 1993. The block was meant to celebrate Popeye's 60th year as an animated character, which originally began in 1933. Each night, beginning at 9:00 PM, the programming consisted of several Popeye films tied together with a similar theme. On Sunday July 18, 1993, the entire week-long broadcast was repeated.
Gallery
Ad blocker interference detected!
Wikia is a free-to-use site that makes money from advertising. We have a modified experience for viewers using ad blockers

Wikia is not accessible if you've made further modifications. Remove the custom ad blocker rule(s) and the page will load as expected.