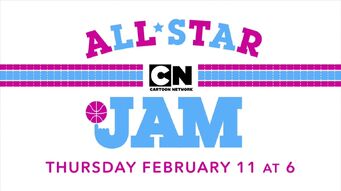 NBA All-Star Jam is a event that has aired in 2015, 2016 and 2017. In 2016, it featured 4 NBA players and they were in guest roles on the network's fan-favorite animated series. Lebron James makes an apperance in his animated version in Teen Titans Go! Also In the lineup, a special episode of the Cartoon Network original series, We Bare Bears, featuring Paul George, Kyrie Irving, and Damian Lillard.
Participants in Cartoon Network's "NBA All-Star Slam 2016" included:
Lebron James (Cleveland Cavaliers)
Kyrie Irving (Clevenland Cavaliers)
Paul George (Indiana Pacers)
Damian Lillard (Portland Trail Blazers)
On February 17, 2017, the event aired again, and was advertised like Friday Party!. During the 2017 event, a brand new Mighty Magiswords and Steven Universe aired, along with a Teen Titans Go! rerun of "The Cruel Giggling Ghoul."
Ad blocker interference detected!
Wikia is a free-to-use site that makes money from advertising. We have a modified experience for viewers using ad blockers

Wikia is not accessible if you've made further modifications. Remove the custom ad blocker rule(s) and the page will load as expected.