Mung Daal
Talk

0
1,833pages on
this wiki
Mung Daal
Biographical information
Born

August 13 1948

Gender

Male

Family members
Physical information
Eye Color

Purple

Hair Color

White

Skin Color

Light Blue

Species

Humanoid

Professional information
Profession

Chef

Affiliations
Title(s)

Chef, with a Certifricate

Current Residence
.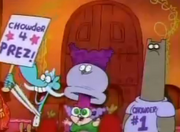 Mung Daal
is one of the main characters and hero in the show,
Chowder
and his role in the show is a teacher to Chowder and somewhat of a fatherly figure to him. He is married to
Truffles
and his employee and sidekick is a big rock monster named
Schnitzel
. He is the founder and chef of
Mung Daal Catering Company
. Mung has failed a lot of times to make schmingerbread houses.
Appearance
Edit
Mung appears as an elderly human with light blue skin, white hair, a long white mustache and glasses. He is more than a 450 years old as that is the length of his marriage with Truffles. He often wears a white chef suit T shirt and a plaid kilt.
Personality
Edit
Mung Daal is quite kind to Chowder when he is not causing insane amounts of trouble and tend to go easy on him when he makes mistakes but he has gotten mad at Chowder in various situations. He has a slightly big ego and thinks of himself as a lady's man and he tends to brag about his dish when Ms. Endive is around.
In 1958, he successfully stole the Generation Nine Meach Princess from the meaches. He cooked the Princess Meach, ate her in a pie, and then thought it was the most delicious pie he ever ate in his life. However, that night when he was showering, he was attacked by the meaches similar to the Alien films, then again attacked, and again, and again, and again, and again, and again, and again, and (playing Overture to William) again, and again, and again...everyday for 25 years! Soon, in 1983, he lost all his great body appearance, his mustache, his strong opera-voice, and became more nerdy.
Love interests
Edit
In the episode Puckleberry overload when he was reading a manual for removing a pucklebarry, one of the visible words was "STUPID".
Appearances
Edit
All episodes except, The Apprentice Scouts
Movies and Specials
Edit