Longhair and Doubledome: Good Wheel Hunting
Talk

0
Share
Longhair and Doubledome: Good Wheel Hunting was a short created by Gavrilo Gnatovich and produced by Knock-Knock Cartoons for the Cartoon Network. The short premiered on Cartoon Cartoon Fridays on July 28, 2000 as one of ten contenders for Cartoon Network's Big Pick, the winner of which would become the next Cartoon Cartoon. The short did not win The Big Pick, and was not picked up by Cartoon Network to become a full-length series. However, another Longhair and Doubledome short "Longhair and Doubledome: Where There's Smoke...There's Bob" was produced in 2002.
Plot
This cartoon follows two philosophical cavemen: Doubledome, a jolly but dimwitted caveman and Longhair, a rather smart caveman with a attitude problem, as they attempt to devise a plan that will help them obtain fruit from a tree that sits atop a high cliff.
Characters
Longhair
Doubledome
Neanderthals
Dung Beetle
Cast
Daniel Davis - Longhair, Neanderthals
Jess Harnell - Doubledome, Neanderthals, Dung Beetle
Trivia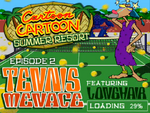 The character Longhair appears as a playable character in Cartoon Cartoon Summer Resort - Episode 2: "Tennis Menace."
In November 2015, Gavrilo Gnatovich put up an unsuccessful Kickstarter to fund a third short without Cartoon Network's involvement.[1] It only made $14,985 out of its $175,000 goal.
References
Ad blocker interference detected!
Wikia is a free-to-use site that makes money from advertising. We have a modified experience for viewers using ad blockers

Wikia is not accessible if you've made further modifications. Remove the custom ad blocker rule(s) and the page will load as expected.