Kevin Levin
Talk

0
1,832pages on
this wiki
Kevin "(Kevin 11)" Levin is the arch enemy and later friend of the keeper of the Omnitrix, Ben Tennyson. He was born with the power to absorb energy, and when he met Ben he absorbed the Omnitrix Alien's energy. He later learned he could transform into each, but got stuck in a mutated blend mode, a combined version of them all. Later, he was trapped in the Null Void, and at some point escaped, now with the ability to absorb material and become it. Sometime in the future, he will be trapped in the Null Void again, and escape several times, once long enough to get married and have a kid. He has his child break him out and almost kills Ben, but is pushed back in forever by his son, Devlin. His fate from then is unknown.
Kevin's Abilities
Edit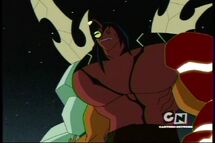 Kevin's abilities have changed several times through out the course of the series. Generally, his power revolves around absorption. In the original Ben 10 series, Kevin was able to absorb energy and manipulate machinery to a minor extent though the energy he uses is finite, so is required to steal more. By absorbing energy from the Omnitrix, Kevin can temporarily take on attributes of any alien form Ben has currently taken on.
In the episode "Framed", it is revealed that Kevin is able to assume any of Ben's alien hero forms at will, due to having absorbed enough sufficient energy from the Omnitrix. Despite this advantage over Ben, he is still defeated. The rage causes his absorption power to spiral out of control, mutating him into a hulking behemoth fusion compromised of the ten starter Omnitrix aliens with no way to revert back to human form. He remains in this form for the remainder of Ben 10. According to the enhanced version of "Framed" Kevin's human DNA restores through time. So, after 5 years he will become a human again.