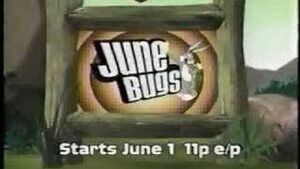 June Bugs was a yearly 48 hour marathon of Bugs Bunny cartoons which started on the first weekend in June 1993. In 2001, the marathon was intended to air nearly every Bugs Bunny cartoon ever made in chronological order, but Time Warner demanded that Cartoon Network pull off 12 cartoons deemed "politically incorrect" by today's standards.
Due to there being considerably less than 48 hours of Bugs Bunny shorts, the episodes would repeat several times throughout the 2 days. June Bugs last occurred on Cartoon Network in June, 2002. In 2003 and 2004, June Bugs aired on Boomerang.
At the end June 2012, after 10 years Cartoon Network returned the marathon for two days but instead of the old format which consisted of airing almost all Bugs Bunny shorts in chronological order, the new format consisted of airing a mix of some of the old Looney Tunes shorts and mostly episodes of the new The Looney Tunes Show. On June 22, 2013 and June 23, 2013, Cartoon Network aired June Bugs again for two days with the same format from 2012.
Ad blocker interference detected!
Wikia is a free-to-use site that makes money from advertising. We have a modified experience for viewers using ad blockers

Wikia is not accessible if you've made further modifications. Remove the custom ad blocker rule(s) and the page will load as expected.