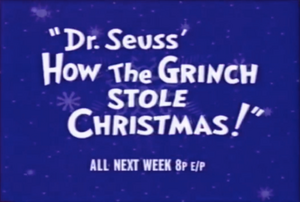 Grinch Week
was a special week-long (Monday-Thursday) Christmas programming block that aired on
Cartoon Network
from December 1-4, 2003 at 8:00pm. Featuring a daily airing of the classic animated Christmas special,
Dr. Suess' How the Grinch Stole Christmas
.
[1]
References
↑ Baisley, Sarah (December 1, 2003). "Grinch Week At Cartoon Network". awn.com. http://www.awn.com/news/grinch-week-cartoon-network

. Retrieved on April 9, 2017

.

 
Ad blocker interference detected!
Wikia is a free-to-use site that makes money from advertising. We have a modified experience for viewers using ad blockers

Wikia is not accessible if you've made further modifications. Remove the custom ad blocker rule(s) and the page will load as expected.