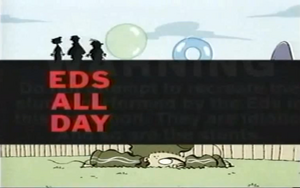 The
Eds All Day
Marathon was a special 7-hour
Ed, Edd n Eddy
marathon that aired on
Cartoon Network
on Monday January 20, 2003 (Martin Luther King Jr. Day) from 9:00 am to 4:00 pm.
[1]
Gallery
External Links
References
↑ "Eds All Day Marathon - 1/20/03 - Talkback". Toonzone.net. January 19, 2003. https://archive.is/20140604225127/www.toonzone.net/forums/cartoon-network-cartoon-forum/63890-eds-all-day-marathon-1-20-03-talkback.html

. Retrieved on July 31, 2014

.

 
Ad blocker interference detected!
Wikia is a free-to-use site that makes money from advertising. We have a modified experience for viewers using ad blockers

Wikia is not accessible if you've made further modifications. Remove the custom ad blocker rule(s) and the page will load as expected.