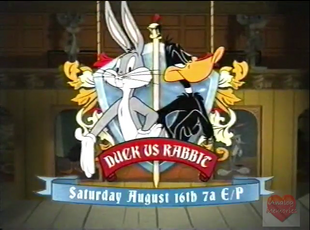 Duck vs. Rabbit was a twelve-hour marathon that aired on August 16, 2003 from 7:00am to 7:00pm.[1]
The marathon focused on Bugs and Daffy's greatest grudge matches from several classic Warner Bros. cartoons.
References
↑ "CN Schedule Aug 16 2003". cartoonnetwork.com. August 16, 2003. http://web.archive.org/web/20030815091255/http://schedule.cartoonnetwork.com:80/servlet/ScheduleServlet?action=GO&theDate=8/16/03&timeZone=EST

. Retrieved on July 27, 2017

.

 
Ad blocker interference detected!
Wikia is a free-to-use site that makes money from advertising. We have a modified experience for viewers using ad blockers

Wikia is not accessible if you've made further modifications. Remove the custom ad blocker rule(s) and the page will load as expected.