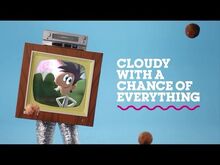 Cloudy with a Chance of Everything is an event which aired on April 22-23, 2017. It generally airs episodes of the Cloudy with a Chance of Meatballs series, the first movie, and also other movies and episodes of Ben 10 2017 and Teen Titans Go! During this event, there's also real life recreations of Flint Lockwood's inventions.
Ad blocker interference detected!
Wikia is a free-to-use site that makes money from advertising. We have a modified experience for viewers using ad blockers

Wikia is not accessible if you've made further modifications. Remove the custom ad blocker rule(s) and the page will load as expected.