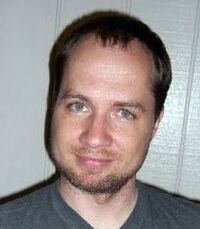 Christopher Mason "Chris" Savino (born October 2, 1971 in Royal Oak, Michigan) is a former American animator. He has worked for Spümcø, Nickelodeon Animation Studios, Hanna-Barbera, Cartoon Network Studios, and Disney Television Animation, Chris was also currently planning a live-action short called Bigfoot & Gray: On the Run, and an animated film called Adventures in Milk.
He was also previously a writer for My Little Pony: Friendship is Magic. In June 2014, his short for Nickelodeon's The Loud House was greenlit for a full series, and debuted on May 2, 2016.
In October 17th, 2017, The Loud House creator was suspended for sexual harassment, sexual allegations, and sexual misconduct towards female Nickelodeon employees, and later on, he was later fired on Thursday, October 19th, 2017 two days later, and two Loud House crew members Kyle Marshall and Amanda Rynda took over him by the third season after his firing on 2017.
He apologized for the sexual misconducting incidents four days later on Facebook, and oddly, after his firing from his own creation (like other crew members fired from any network studio, Skyler Page, the creator of Clarence was fired in July 3rd, 2014 for the same reason, even with his bipolar disorder, and John Kricfalusi was fired from Nickelodeon on September 1992 (26 years ago), for the episode of Ren and Stimpy's "Man's Best Friend" featuring a scene of Ren beating up George Liquor with an oar (which was the reason why the episode was banned from TV and only found on US DVDs), and for creative differences and missing deadlines), he was known to be the second Nickelodeon employee to be fired from Nickelodeon, with the first being John K, the creator of Ren and Stimpy.
Career
Television
| Year | Title | Notes |
| --- | --- | --- |
| 1991 | The Ren & Stimpy Show | Layout Artist |
| 1993 | Rocko's Modern Life | Character Designer/Prop Designer |
| 1996 | Hey Arnold | Storyboard Director |
| 1997 | Space Goofs | Storyboard Artist |
| 1997 | Duckman: Private Dick/Family Man | Storyboard Artist |
| 1997 | Dexter's Laboratory | Storyboard Artist/Director/Writer/Producer |
| 1997 | Cow and Chicken | Storyboard Artist |
| 1997 | I Am Weasel | Storyboard Artist |
| 1998 | The Powerpuff Girls | Storyboard Artist/Director/Writer/Producer |
| 2000 | Foe Paws | Creator/Director/Writer |
| 2002 | Samurai Jack | Director |
| 2002 | The Grim Adventures of Billy & Mandy | Storyboard Artist |
| 2004 | Foster's Home for Imaginary Friends | Writer/Animation Director |
| 2005 | Johnny Test | Producer/Director |
| 2007 | My Gym Partner's a Monkey | Storyboard Artist/Sheet Timer |
| 2008 | Ni Hao, Kai-Lan | Storyboard Artist |
| 2010 | My Little Pony: Friendship Is Magic | Writer |
| 2010 | Kick Buttowski: Suburban Daredevil | Director/Executive Producer/Writer |
| 2013 | Mickey Mouse | Writer/Director/Storyboard Artist |
| 2016-2017 | The Loud House | Creator/Story/Executive Producer (2016-2017)/Writer/Director/Storyboard Artist (2016)/Theme Song Composer/Opening and Ending Composer/Songwriter |
Movies