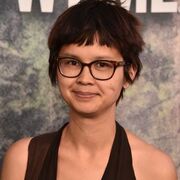 Charlyne Yi is an American actress, comedian, musician, and writer. She was born in Los Angeles, California, the daughter of Lydia and Luciano Yi. Her mother, a native of the Philippines, is of Philippine and Spanish descent, and her father is of Mexican, Korean, Irish, German, French, and American ancestry. She attended the University of California, Riverside before leaving to pursue a full-time career in comedy.
She's the voice actress for Ruby in the show Steven Universe.
Ad blocker interference detected!
Wikia is a free-to-use site that makes money from advertising. We have a modified experience for viewers using ad blockers

Wikia is not accessible if you've made further modifications. Remove the custom ad blocker rule(s) and the page will load as expected.