Cartoon Network HD is the network's high definition feed, it was launched in the United States on October 15, 2007 and is carried on most cable and satellite providers. As on all Turner owned networks, 4:3 content is carried in a stretched format to fill a 16:9 screen. All programs produced in HD are aired letterboxed on the standard definition feed.
On February 9, 2013, the HD-availability lower third, which started appearing in 2008 on the standard-definition feed, was removed. During the week of May 6, 2013 Cartoon Network removed the "HD" text from its HD-feed screen bug. Later in the month, the SD and the HD feed became the same feed, with the SD feed just being the HD one letterboxed. This resulted in the network's 4:3 shows being stretched and letterboxed in SD.
On February 23, 2015, Cartoon Network HD was released on Chile by VTR GLOBALCOM S.A Chile.
Logo Timeline
2007-2009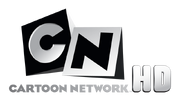 2009-2010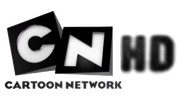 2010-2013 (USA), 2011-Present (Europe, United Kingdom, Ireland)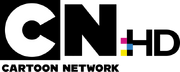 2013-Present (USA)
The HD feed dropped the altered logo in 2013, right around the time the HD feed became the main feed.
Ad blocker interference detected!
Wikia is a free-to-use site that makes money from advertising. We have a modified experience for viewers using ad blockers

Wikia is not accessible if you've made further modifications. Remove the custom ad blocker rule(s) and the page will load as expected.