Cartoon Network HD is the network's high definition feed, it was launched in the United States on October 15, 2007 and is carried on most cable and satellite providers.
On February 23, 2015, Cartoon Network HD was released on Chile by VTR GLOBALCOM S.A Chile.
As of July 28, 2015 for Europe, United Kingdom, Ireland, HD bug are removed for this network and the high definition feed is downscaled by the provider for the standard definition feed, resulting in all programming appearing in a 16:9 ratio with letterboxing. Unlike the other Turner networks in Europe, United Kingdom, Ireland, standard definition advertising is also stretched into 16:9 mode.
Logo Timeline
2007-2009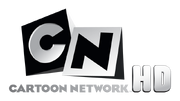 2009-2010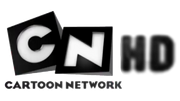 2010-2013 (USA), 2011-2015 (Europe, United Kingdom, Ireland)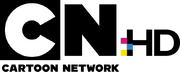 Ad blocker interference detected!
Wikia is a free-to-use site that makes money from advertising. We have a modified experience for viewers using ad blockers

Wikia is not accessible if you've made further modifications. Remove the custom ad blocker rule(s) and the page will load as expected.