This article is a stub, meaning it is under 2,500 bytes. You can help the Wiki by expanding it!
Cartoon Network RSEE is a television channel for viewers in Central and Eastern Europe. It was launched in 2009, replacing the Pan-European version of Cartoon Network. It is broadcasted in English, Russian and Bulgarian.
Cartoon Network is best for showing programming blocks, such as Cartoon Network Cinema, Marathon Mix, Cartoon Toon Toon, The Teen Titans Go! Show, Scooby-Doo! Movie Week and some programming blocks that have been on the channel from past to present.
Cartoon Network also has Monthly Highlights, introduced in June 2016 to higlight the following shows such as Steven Universe, Teen Titans Go!, Angelo Rules and Regular Show.
Its sister channel, Boomerang, has different programming (mostly from France).
History
2009
Cartoon Network Russia and Southeastern Europe launched on 1 October 2009. Its branding featured arrows with random things popping out from the logo and arrows with random stuff creating the logo. When the version launched, it had the same shows as the Pan-European version, except for archival or classic programs such as Top Cat. In November 2009, Best Ed premiered, which was aired on the Pan-European version; in December 2009 Star Wars: The Clone Wars premiered, which also aired on the past version. In January 2010, Batman: The Brave and the Bold premiered, which was the first new show on the version that hasn't aired on the Pan-European version before. Other new shows premiered during these months, such as Bakugan Battle Brawlers: New Vestroia, Total Drama Island and Hero: 108.
2010
On 26 November 2010, Cartoon Network revamped its look and got a new logo. The first show to air after the revamp was My Gym Partner's a Monkey. The first new show to premiere on the channel after/during the revamp is Angelo Rules.
2011
2012
2013
2014
2015
On December 23, 2015, Turner sold its Russian assets to Media Alliance, a company jointly owned by National Media Group and Discovery Communications.[1]
2016
On December 6, 2016, the channel switched to the 16:9 picture format. The switch happened during a Total Drama Island episode. Days later, Cartoon Network Russia and Southeast Europe HD launched but only for Rostelecom customers in Russia.[2]
2017
2018 (present-day)
Countries that broadcast CN RSEE
Russia
Bulgaria
Armenia
Azerbaijan
Georgia
Kazakhstan
Estonia
Latvia
Lithuania
Turkmenistan
Tajikistan
Kyrgyzstan
Uzbekistan
Belarus
Ukraine
Moldova
Serbia
Croatia
Bosnia and Herzegovina
Slovenia
Montenegro
Macedonia
Albania
Kosovo
Current programming
Adventure Time (12+)
The Amazing World of Gumball (6+)
We Bare Bears (6+)
Ninjago: Masters of Spinjitzu (6+)
Teen Titans Go! (6+)
Angelo Rules
Transformers: Robots in Disguise
Xiaolin Chronicles
Nexo Knights
The Powerpuff Girls (2016)
Ben 10 (reboot)
Cloudy With a Chance of Meatballs
Unikitty!
Supernoobs
Steven Universe (6+)
Former programming
Some shows are moved to Cartoon Toon Toon.
Samurai Jack
Skunk Fu
Best Ed
Tom and Jerry
Looney Tunes
Ben 10 series (OS, AF, UA, OV)
Camp Lazlo
Xiaolin Showdown
Green Lantern: The Animated Series
Total Drama series (TDI, TDA, TDWT, TDRI, TDAS, TDPI)
Dexter's Laboratory
The Powerpuff Girls (original)
Scooby-Doo Mystery Inc.
My Gym Partner's a Monkey
The Marvelous Misadventures of Flapjack
Dr. Dimensionpants
Generator Rex
Fantastic Four: World's Greatest Heroes
Eliot Kid
Long Live the Royals
The Life and Times of Juniper Lee
Class of 3000
The Secret Saturdays
Sym-Bionic Titan
Level Up
Robotboy
Johnny Test
Mixels
The big Big Big BIG Cartoon Network Show
Total Drama Presents: The Ridonculous Race
Bakugan Battle Brawlers: New Vestroia
ThunderCats (2011 TV series)
Gormiti Nature Unleashed
Transformers: Prime
Over the Garden Wall
DreamWorks Dragons: Race to the Edge
DreamWorks Dragons: Riders of Berk
DreamWorks Dragons: Defenders of Berk
The Looney Tunes Show
Hero: 108
Inazuma Eleven
Ben 10: Ultimate Challenge
The Heroic Quest of the Valiant Prince Ivandoe
OK K.O.! Let's Be Heroes
Ben 10 Challenge
Mighty Magiswords
Chop Socky Chooks
Uncle Grandpa (12+)
Regular Show (12+)
Clarence (6+)
Batman: The Brave and the Bold
Star Wars: The Clone Wars
Upcoming programming
Programming blocks
Cartoon Network Cinema: A programming block which shows a movie of a specific cartoon.
Cartoon Toon Toon: A programming block which shows a bunch of shows that aired earlier in CN.
Marathon Mix: A programming block, showing cartoons with episodes in order.
The Teen Titans Go! Show: A programming block that usually shows episodes of Teen Titans Go! (but includes false questions shown in breaks).
Epic Moments of Adventure Time
Scooby-Doo! Movie Week
The Gumball Games: A daily TAWOG marathon which shows recently aired and new episodes of The Amazing World of Gumball. There were only 5 challenges, but none of the new challenges were tested. However, the challenges appear in the opening and break cards of The Gumball Games. The games also contain an opening ceremony and a Blind Race (blindfold challenge). The games' mascot is a tinfoil trophy (not made in 3D).
Uncle Universe Marathon
Finn and Jake's Travel Guide
Don't Call Me Princess
Darwin's Day of Friendship
The Origins of Darwin
The Origins of Marceline
The Origins of Finn
The Uncle Grandpa Awards
Boomerang CEE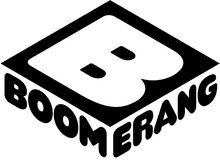 Cartoon Network's only sister channel.
Current programming
Tom and Jerry Show
Bunnicula
Grizzy and the Lemmings
My Knight and Me
Be Cool, Scooby Doo!
Mr. Bean: The Animated Series
Bugs! A Looney Tunes Production/New Looney Tunes
Pat the Dog
Wacky Races (reboot)
Tom and Jerry
Oddbods
Dorothy and the Wizard of Oz
The Garfield Show
Miss Moon
Inspector Gadget
Five Farmies
Former programming
The Jetsons
Duck Dodgers
Krypto: The Superdog
Wacky Races (original)
The Flintstones
Pink Panther and Pals
Baby Looney Tunes
Tom and Jerry Tales
What's New Scooby Doo?
The Owl and Co.
The Jungle Bunch: To The Rescue
Robin Hood: Mischief in Sherwood
LazyTown
Cite error: <ref> tags exist, but no <references/> tag was found