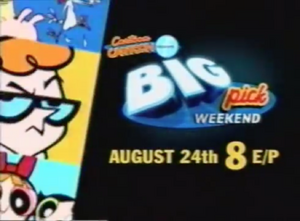 Cartoon Cartoon Fridays: Big Pick Weekend
was the fifth
Cartoon Cartoon Weekend
marathon that ran for 52 hours from 8:00 pm Friday, August 24, 2001 to 12:00 am Sunday, August 26, 2001 on
Cartoon Network
. The marathon consisted of episodes from the
Cartoon Cartoons
that existed at the time as well as several
Cartoon Cartoon Shorts
. The event was primarily hosted by I.M. Weasel from
I Am Weasel
.
The marathon also included the premiere of the second Big Pick, in which the audience chose which one of ten Cartoon Cartoon shorts would become a new Cartoon Network series. The winner was The Kids Next Door. Also, the new series Grim & Evil premiered to kick off the weekend.
Programming
Cartoon Cartoon Series
Cartoon Cartoon Shorts
"Imp, Inc."
"My Freaky Family"
"Major Flake: Soggy Sale"
"Utica Cartoon: Hotdog Champeen"
"Kids Next Door: No P in the Ool"
"Swaroop"
"Ferret and Parrot"
Big Pick Voting Results
Kids Next Door - 60,631 - 27.4 percent
A Kitty Bobo Show - 28,770 - 13.0 percent
My Freaky Family - 25,022 - 11.3 percent
Gallery
Ad blocker interference detected!
Wikia is a free-to-use site that makes money from advertising. We have a modified experience for viewers using ad blockers

Wikia is not accessible if you've made further modifications. Remove the custom ad blocker rule(s) and the page will load as expected.