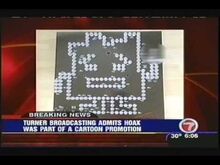 The 2007 Boston Bomb Scare was an event that took place in 2007, and is the cause of Jim Samle's resignation, and what most fans dubbed "The Dark Ages" of Cartoon Network.
The Event
To promote the Aqua Teen Hunger Force movie, Mooninite made of Lite-Brites were hung up around America. Days later, Boston was under lockdown. Local police thought it was a threat. Turner Broadcasting paid the city $2,000,000 in compensation.
Ad blocker interference detected!
Wikia is a free-to-use site that makes money from advertising. We have a modified experience for viewers using ad blockers

Wikia is not accessible if you've made further modifications. Remove the custom ad blocker rule(s) and the page will load as expected.